The Android performance monitoring app
---
Maximize your Android experience with real-time CPU, GPU & RAM meter & optimization
All that information as constant visible system notifications!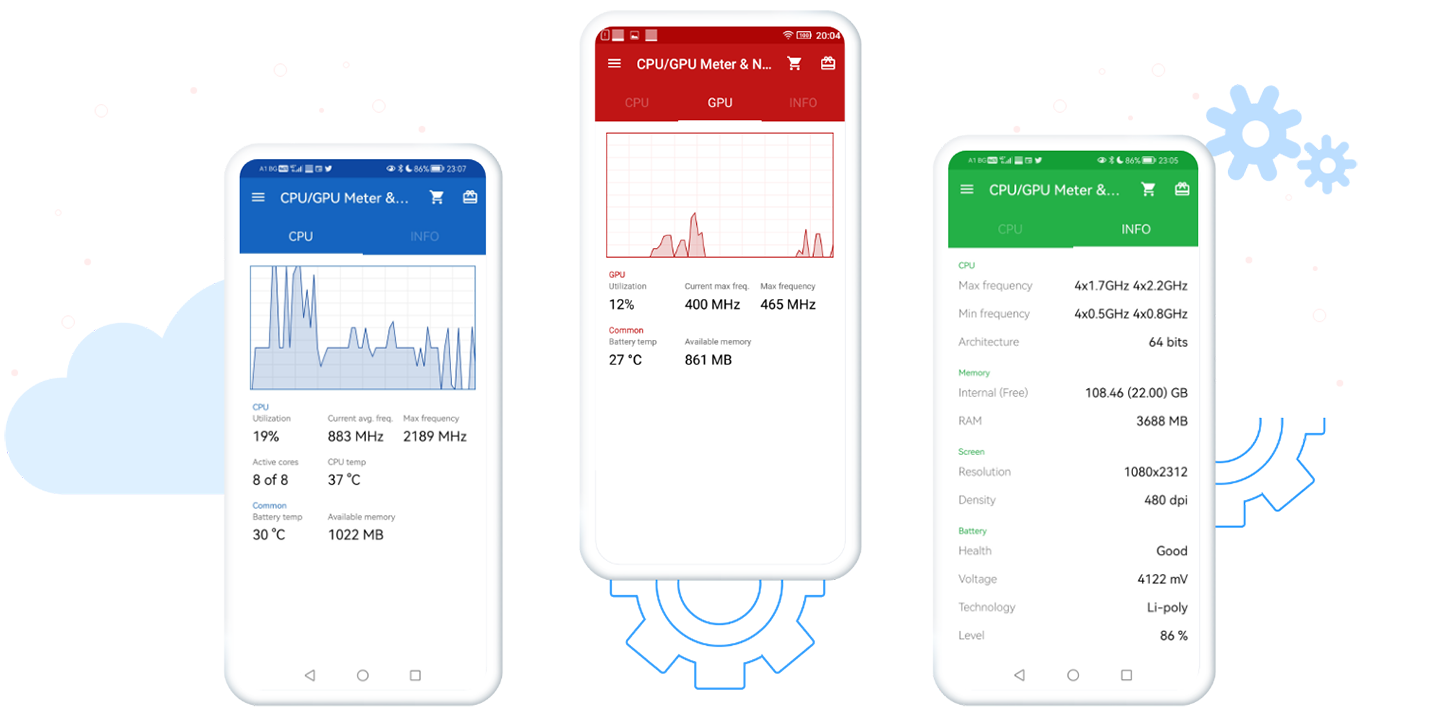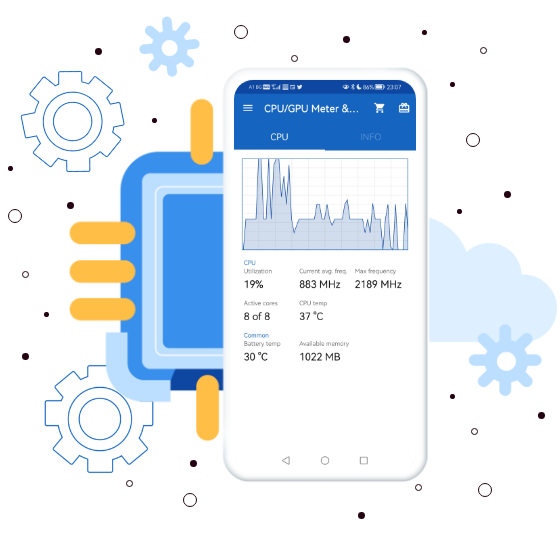 CPU
CPU Meter & Notification
Gain a deeper insight into your phone's performance by analyzing historical data and observing how it has evolved over time. This can provide you with a clear and comprehensive overview of your device's processing capabilities.
CPU utilization - total and per core

CPU frequency - current, maximum and average

CPU temperature

CPU active core

Continuous CPU usage
GPU
GPU Meter & Notification
Enhance your Android gaming with a modern GPU meter app. Monitor GPU load, temperature, and other key metrics for optimal performance and a seamless gaming experience.
GPU utilization

GPU frequency - current and maximum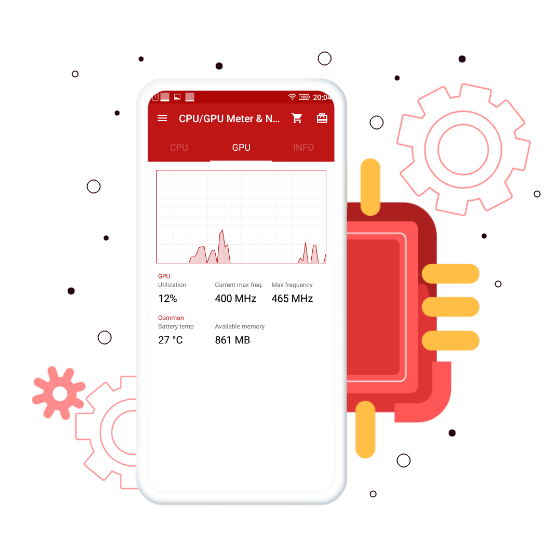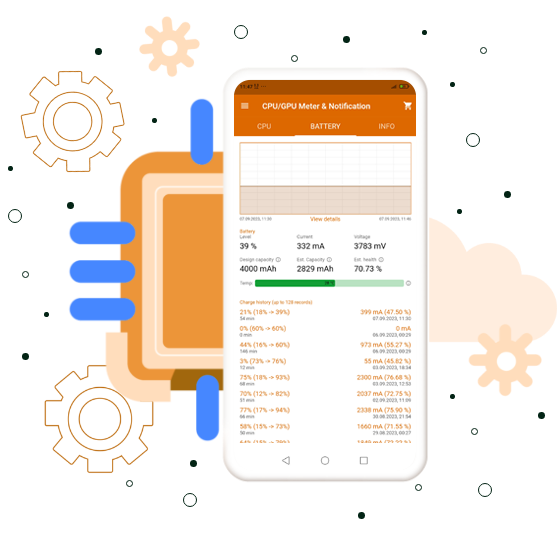 BATTERY
Battery monitoring and stats
Monitor how your battery performs as it ages.
Battery current consumption

Battery discharge graph

Battery charge alarm

Estimated battery charged capacity

Battery's temperature

Battery charge history
INFO
Detailed information
Know your device better with breef and accurate device information.
CPU name

CPU lithgraphy

CPU architecture

CPU bits

CPU single core and multi core speed index

GPU name

GPU processors

GPU performance

RAM clock and bandwidth

Screen resolution and density

Battery condition and design capacity

System API versions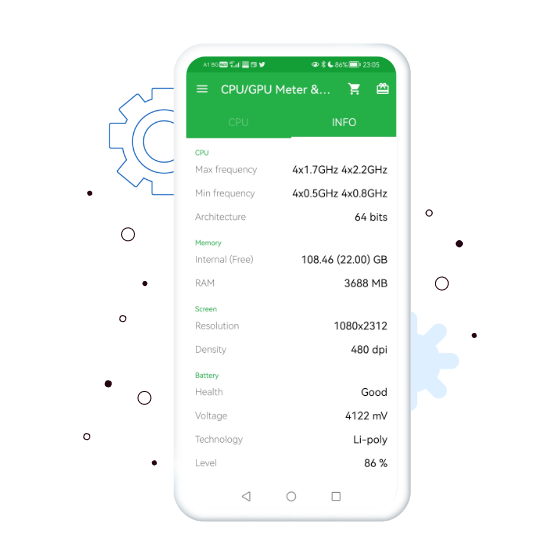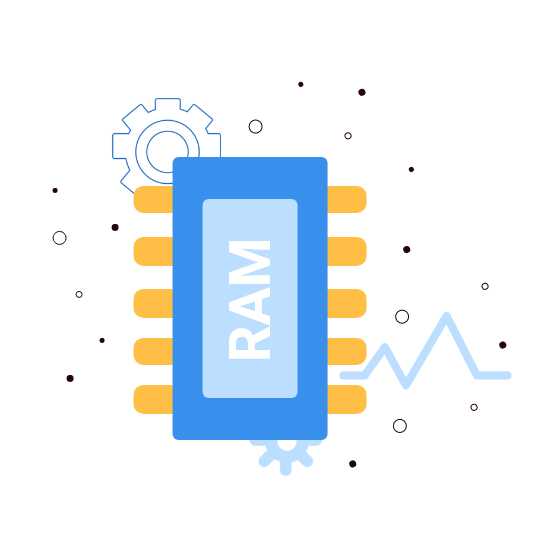 MEMORY
RAM monitoring and optimization
Monitor your RAM usage for a seamless Android experience
Enhance multitasking capabilities by knowing when you have enough available memory to work with.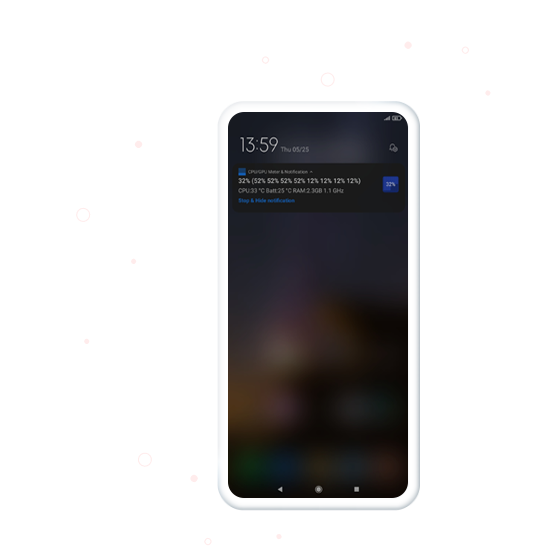 All the data in the notifications
CPU
GPU
Battery
No app switching
Accurate data in real time
Monitor the data that matters to you
Organize and configure the type and the way that information is presented in the notifications
Internal Storage
Keep track of how much storage space is being used, how much is available, and what files or apps are taking up the most space.
Dark mode
Smooth dark mode experience that syncs with your Android.
Themes
An intuitive UI that allows the customization of colors in the app.
Temperature readings
Keep your Android phone in top condition and avoid potential issues.
No ads
Completely ad-free experience.
Support
Experience seamless updates and efficient support with our dedicated team.
Battery temp warning
Do not overheat or damage your battery.
FPS counter
Monitor the performance of your phone while playing games and ensure that the graphics are running smoothly.
Network meter
Monitor your connection speed.
Notifications
View all important information in the system notification. Everything is there at a glance.
Screen overlay
Customizable screen overlay display with all the data you need.
Floating window
Customizable floating window with all the data you need.
You fixed android 13 grouping the CPU/GPU notifications and breaking value updates. Fantastic!

Very useful app, reliably shows me the utilization of the CPUs on my Android cell phone and tablet.

Very good I recommend it 👍👍👍👍👍👍👍👍👍

Very good the options you have to see the use of the cpu thanks good job 👍🏼👍🏼👍🏼

This is a super good APK, I have proven it; my cellphone is cold + my battery is great 30%. Others pay but the results are zero.

I absolutely love this app! It informs me of one very important piece of Intel that I need to keep my device running as smooth as I possibly can, and that Intel is my RAM. Without that knowledge I'd be in a world of sluggish performance and frustration. This is a utility you simply cannot be without! Device running slow? Check your RAM! CLOSE any background processes and keep your device running as smooth as possible. I give this app an A+

Really nice done app 👍 All Infos on one App what are interesting to know

Clean and efficient, an application that perfectly meets the needs.

Awesome it works where other's don't. It shows real time GPU and CPU usage! Even in the notification bar! Yes!!! I love it and you will too. Just try it, it's not a waste of time like the other apps.

Very good app, that does what you expect it to do and more. I've had 0 problems with it, and recommend it to anyone who wants to get specifications about their phones

Love that it has the ability to constantly show CPU usage in the status bar without root. This has helped me diagnose rogue apps on my phone. Highly recommended.